Members listed from left to right:
Andrew and Zelma Rolle, Samuel and Loyda Colon, Moises and Mimi Morales, Jose and Gloria Ramos, Rick and Terri Gold, Michael and Monica Watts, George and Tamey Jones, Pastor Graham and Melody Chancey, and Timothy Jones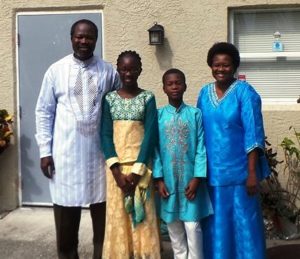 West Palm Beach, FL 33412
Church of God World Missions – Africa
Alex and Leah Abiola have been called to serve as missionaries to Nigeria in West Africa with a ministry that includes ministerial education, medical missions, family and marital counseling, substance abuse counseling, and and outreach to children and the poor. The Abiolas also seek tom unite the Nigerian churches in reaching the nation.
Living in the old capital city of Lagos, Alex has been appointed the Church of God Overseer for Nigeria, where he is outfitting a medical clinic on the compound of the COG district church in Egbeda and establishing a library for ministers, thanks to the Williston (FL) Church of God, which supplied the books. Another project is providing shoes and clothes for the needy, as well as medical supplies, such as crutches and wheelchairs. Alex and Leah coordinate short-term mission trips to Nigeria in the are of medical assistance and ministerial training.
Alex and Leah Abiola served as missionaries to the Republic of Ireland from December 2004 to July 2010. They assisted the overseer of Ireland in church planting, ministerial training, and counseling. Alex helped pastors with themed Bible classes, ministry training courses, outreach ministries, and wedding ceremonies.