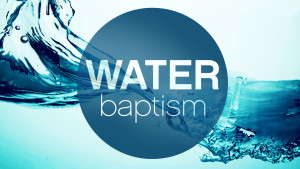 "The ordinance of baptism by immersion is commanded by the Scriptures. All who repent and believe on Christ as Savior and Lord are to be baptized. Thus they declare to the world that they have died with Christ and that they also have been raised with Him to walk in newness of life."
1. Is baptism commanded by God's Word? Acts 2:36-38; Matthew 28:19–20; Mark 16:15-16.
Comment: Clearly, baptism is a commanded ordinance for those who would be saved. Though it is strictly a physical ritual, our participation in it shows the sincerity of our repentance, our belief of His Word, our desire to obey God and our acceptance of what Jesus Christ did on our behalf. It is such an important beginning to our Christian lives that Jesus says that "unless one is born of water [baptism] and the Spirit [by a laying on of hands (Hebrews 6:2; Acts 8:17)], he cannot enter the kingdom of God" (John 3:5).
2. Was Jesus baptized as an example to us? Matthew 3:13-17.
Comment: Though He had never sinned, Jesus went through the rite of baptism "to fulfill all righteousness." He did everything a truly righteous man should do, so we could learn from Him. As our perfect example in all things (see I John 2:6; I Peter 2:21), He came to John to be baptized to show us the steps we must take to reach the same destination He did—the Kingdom of God.
3. Is baptism a sprinkling, a pouring or an immersion in water? John 3:23; Matthew 3:16; Acts 8:38.
Comment: These verses give conclusive proof that the original method of baptism was by immersion. John needed an abundance of water to cover his followers completely. Jesus' example shows that He "came up . . . from the water" because He had been in it. Philip and the Ethiopian eunuch "went down into the water." In addition, "baptize," from the Greek baptizo, means "to immerse," "plunge into" or "put into." Two entirely different words are used in the Greek text to refer to pouring (cheo) or sprinkling (rantizo).
4. What are the conditions that must be met before one is baptized? Acts 2:38; Mark 1:15; Acts 8:12.
Comment: From these three verses, we understand the two prerequisites for baptism: repentance and belief of the gospel of the Kingdom of God. The people of Acts 2 showed by their reaction that they believed what Peter had preached (verse 37), and thus they needed only to repent of their sins and their human nature before they were baptized (verse 41). One need not be a Bible scholar or be living perfectly to be baptized; these things are part of growing in the grace and knowledge of Jesus Christ after baptism (II Peter 3:18).
Comment: In these verses of Luke 14, Jesus explains the principle of "counting the cost." The candidate for baptism must be able to discern the terms of God's offer for salvation before making such a monumental decision. He must be mature enough to understand what God desires of him, to repent and to believe the gospel. A new believer should be baptized as soon as possible after he has come to this point in his calling (Acts 8:35-38;9:17-18). The apostles' example in Acts 8:12 shows that they baptized only adults who had met the qualifications of baptism. Thus, this would rule out children and—obviously—the dead (I Corinthians 15:29; Paul is ridiculing the practice).
6. Does baptism symbolize one's belief and acceptance of Christ's death, burial and resurrection? Colossians 2:12-13; Romans 6:2-6.
Comment: Symbolically, our baptism imitates what our Savior did for us, and therefore, by our participation in it, we show our desire to be united—at one—with Him in both His death and resurrection (Romans 6:5). Paul writes in Galatians 2:20: "I have been crucified with Christ; it is no longer I who live, but Christ lives in me; and the life which I now live in the flesh I live byfaith in the Son of God, who loved me and gave Himself for me." This is what our decision to be baptized tells our Father in heaven.
7. Is water baptism also symbolic of being cleansed of sin and living a new life? Same verses.
Comment: Being put into the water represents the death of the "old man" with his sinful way of life. Being completely covered by water symbolizes burial, and being raised from the water pictures a resurrection to "newness of life." After baptism we consider ourselves dead to sin, that is, we have completely divorced ourselves from living a sinful way of life (Romans 6:11). Once baptized, we are to give our lives to God and use our time to become "instruments of righteousness to God" (verse 13).
8. Into what are we baptized? Matthew 28:19; I Corinthians 12:13.
Comment: Baptism also serves to induct us into God's church and Family. We are literally baptized into the name of God. It becomes our Family name, and we have a great responsibility to uphold it (see Exodus 20:7; Proverbs 22:1). Afterwards, when a minister lays his hands on us, God gives us of His Spirit, and we truly become Christians, members of the body of Christ. And because we have God's Spirit in us, we become God's children and heirs with Christ of all things (Romans 8:14-17; Hebrews 2:5-13)!